Could it really be this easy to STOP foreclosure at absolutely little or no cost to you, and in less than 7 days - getting your life right back on track with one small decision?
---
The answer is YES! By following our proven system or by using just one of these well known techniques, you can be well on your way to stopping foreclosure DEAD in its tracks.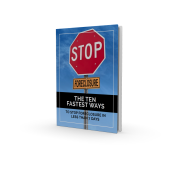 Get Instant Access
To get your FREE copy of "The 10 Fastest Ways to STOP Foreclosure in Less Than 7 Days," simply tell us where to send it.